Our highest priority is awarding scholarship gifts to deserving Seniors each May and the funding of grants to Arlington High and its network schools through the Arlington ISD Education Foundation. Scholarship Awards are made possible by your membership fees and gifts. Donations over and above your membership fees make it possible for us to increase our scholarship giving to AISD.
The AHS Alumni Association
Supporting AHS
* Since 1998, the Association has underwritten grants to AHS and its network schools through the AISD Education Foundation in the amount of $27,000.
* In 2003 the AHS ALUMNI ASSOC. established the scholarship fund - granting $600 per recipient.
* In 2004 the scholarship was increased to $1000 per recipient
* Through 2015, we have awarded $58,200 to 59 graduating seniors since 2003.
* Through May, 2015 – a total of $105,500 Alumni Association dollars have supported AHS. 
To donate directly to scholarships for this year's seniors, send your check marked Scholarship Fund to:
AHS ALUMNI ASSOCIATION
PO Box 152578
Arlington, TX 76015
SCHOLARSHIP DONATIONS
USING PAYPAL
You may also make a scholarship donation on-line using the services of PAYPAL. Please see the DONATION BUTTON at the top of the right hand column on this page. Click the BUTTON and fill in the amount you wish to give.
AHS ALUMNI ASSOC. - Thanks You!
---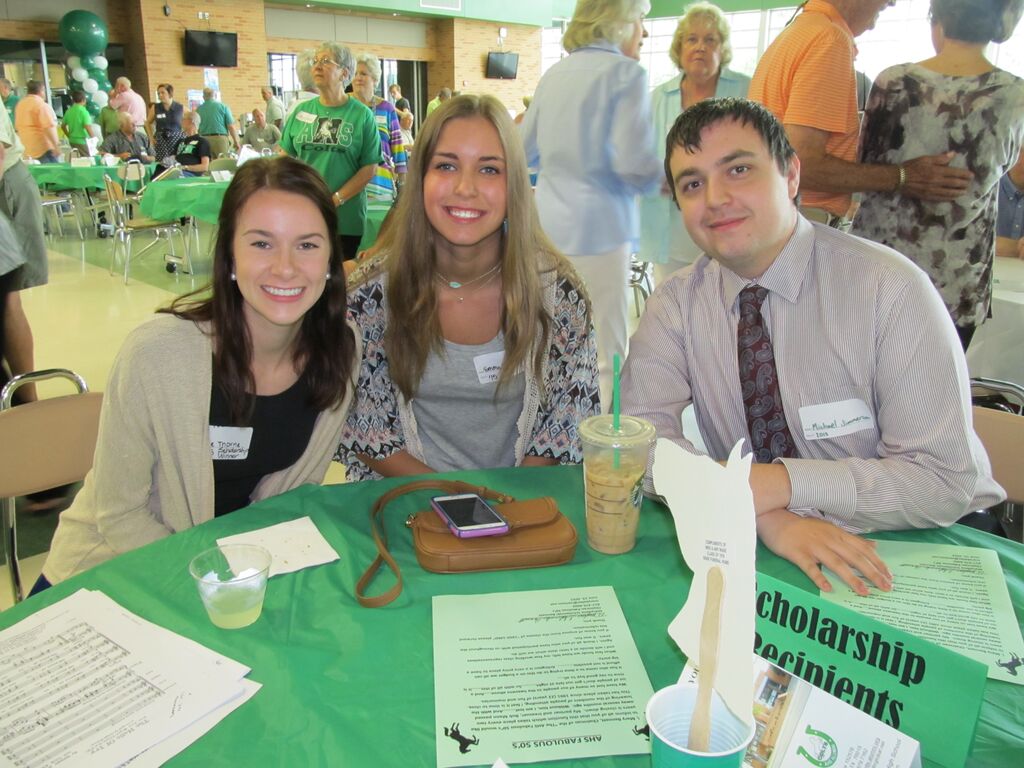 Ellie, Emma, and Michael attending their first Open House in June 2015
AHS ALUMNI ASSOCIATION
SCHOLARSHIP GIFTS
AHS ALUMNI WINNERS 2016
ALUMNI SCHOLARSHIP WINNERS - 2015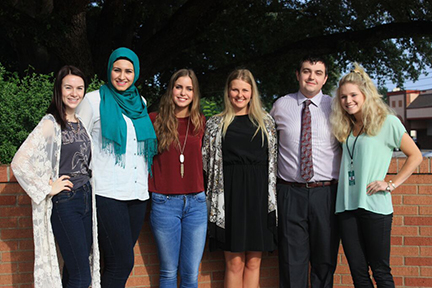 ALUMNI SCHOLARSHIP WINNERS 2014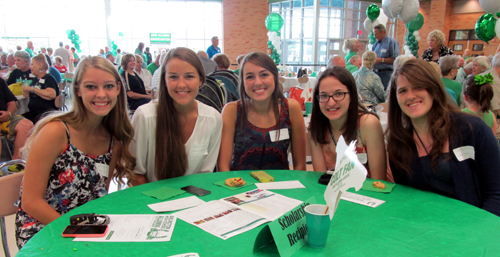 ALUMNI SCHOLARSHIPS - 2013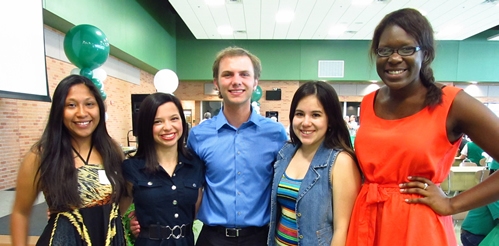 2013:
Jazmin Marin, Morgan Taylor Fowler
,
Cole Enger, Alexa Cardenas, Evette Odhiambo. Each of these outstanding students received a $1,000.
S
cholarship from the Alumni Association.
Scholarship recipients and the years
of their awards:
2003
Chris Branigan - graduated May 2007 from Southern Nazarene University in Oklahoma City, currently pursuing his Masters in Divinity from Nazarene Theological Seminary in Kansas City.
See more about Chris in the Winter 2008 newsletter.
Qiana Rollins - graduated May 2007 from the University of Oklahoma, currently working in The Woodlands for Anadarko Petroleum.
See more about Qiana in Fall 2007 issue.
2004
Jason Sauter – started at Texas State;
graduated and employed with Disney World
Cassondra Ynguanzo – Elementary education major at TCU
2005
Eric Bautovich – started at UTA;
Lisa Creamier – TCC;
Amber Harris – University of Texas at Austin; transferred to UTA for fall 2007
Donna Jennings – UTA;
2006 (bios in the Fall 2006 newsletter)
Kristen Batchelor– Texas Tech, majoring in education
Robert Broughton – TCC; transferred to Hardin-Simmons University for fall 2007
Danielle Schartz – Texas A&M
Summer Schartz – University of Texas at Austin, hoping to be accepted into the UT School of Architecture and Interior Design
2007 (bios in the Fall 2007 newsletter)
Amber Jones – University of North Texas
Eleanor Khonje - UTA
Katelyn Taylor – Stephen F. Austin
Gilbert Vasquez – University of North Texas
2008 (bios in Fall 2008 newsletter)
Alá Ahmad
Hannah Crossnoe
Brittneé Keller
Samuel Tang
2009 (bios in Fall 2009 newsletter)
Fayha Ahmad
Chance Blue
Sara Cainelli
Ellese Perryman, Class of 1968 sponsored this scholarship with a gift of $1,000
Matthew Weideman
2010 (bios in the Fall 2010 newsletter)
ALEXANDRA ANDERSON
MARIELA CASTRO
BRIANNA NATHANIEL
ASMATH SIDDIQUI
JULIEANNE STINSON
2011 (bios in the Fall 2011 newsletter)
DAVID DUQUE
HALIE HULLENDER
LAUREN LANDRY
ASHLEY LEWIS
SERENA TANG

2012 (bios in the Fall 2012 newsletter)
SANDRA BABERS
CELESTE CAMPBELL
BRITTANY LOK
CYNTHIA THORNE
LAUNDRY TUCKER
ALEXANDRA WOLFSKILL

2013
Alexa Cardenas - UTA
Cole Enger – Baylor
Morgan Fowler – Texas Tech
Jazmin Marin – Tarrant County College
Evette Odhiambo – North Texas
2014
Daniela Castro - tarrant county college
Shelby Dykes - stephen f. austin
Bailey Harris - baylor university
Hannah Hullender - ut - austin
Marissa Otterbine - texas state university
Rebekah tate - baylor university
2015 (Bios in the Fall 2015 Newsletter)
Jana Ahmad
Kayla Estes
Lauren Beard
Michael Jimmerson
Ellie Thorne
Ryley Shadix
Emma Smith

If you have current email addresses or other contact information for our scholars whose files need updating, please send to cathybbrown@sbcglobal.net.
<![if !supportEmptyParas]> <![endif]>