Our highest priority is awarding scholarship gifts to deserving Seniors each May and the funding of grants to Arlington High and its network schools through the Arlington ISD Education Foundation. Scholarship Awards are made possible by your membership fees and gifts. Donations over and above your membership fees make it possible for us to increase our scholarship giving to AISD.
The AHS Alumni Association
Supporting AHS
* Since 1998, the Association has underwritten grants to AHS and its network schools through the AISD Education Foundation in the amount of $27,000.
* In 2003 the AHS ALUMNI ASSOC. established the scholarship fund - granting $600 per recipient.
* In 2004 the scholarship was increased to $1000 per recipient
* From 2003 - 2021 you have awarded $139,500 to 121 graduating seniors.
* Through May, 2015 – a total of $105,500 Alumni Association dollars have supported AHS. 
To donate directly to scholarships for this year's seniors, send your check marked Scholarship Fund to:
AHS ALUMNI ASSOCIATION
PO Box 152578
Arlington, TX 76015
SCHOLARSHIP DONATIONS
USING PAYPAL
You may also make a scholarship donation on-line using the services of PAYPAL. Please see the DONATION BUTTON at the top of the right hand column on this page. Click the BUTTON and fill in the amount you wish to give.
AHS ALUMNI ASSOC. - Thanks You!
---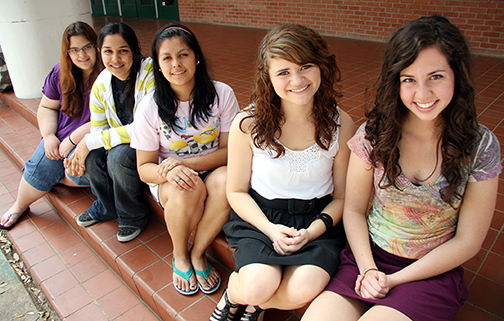 ALUMNI SCHOLARSHIP WINNERS 2010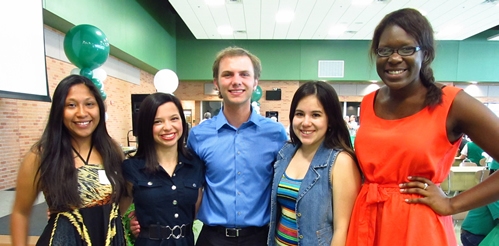 ALUMNI SCHOLARSHIPS - 2013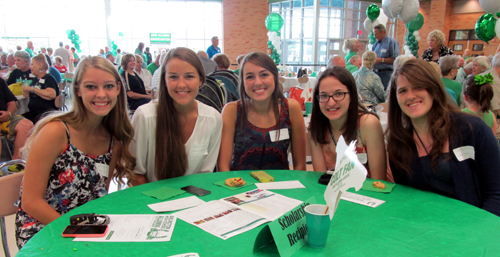 ALUMNI SCHOLARSHIP WINNERS 2014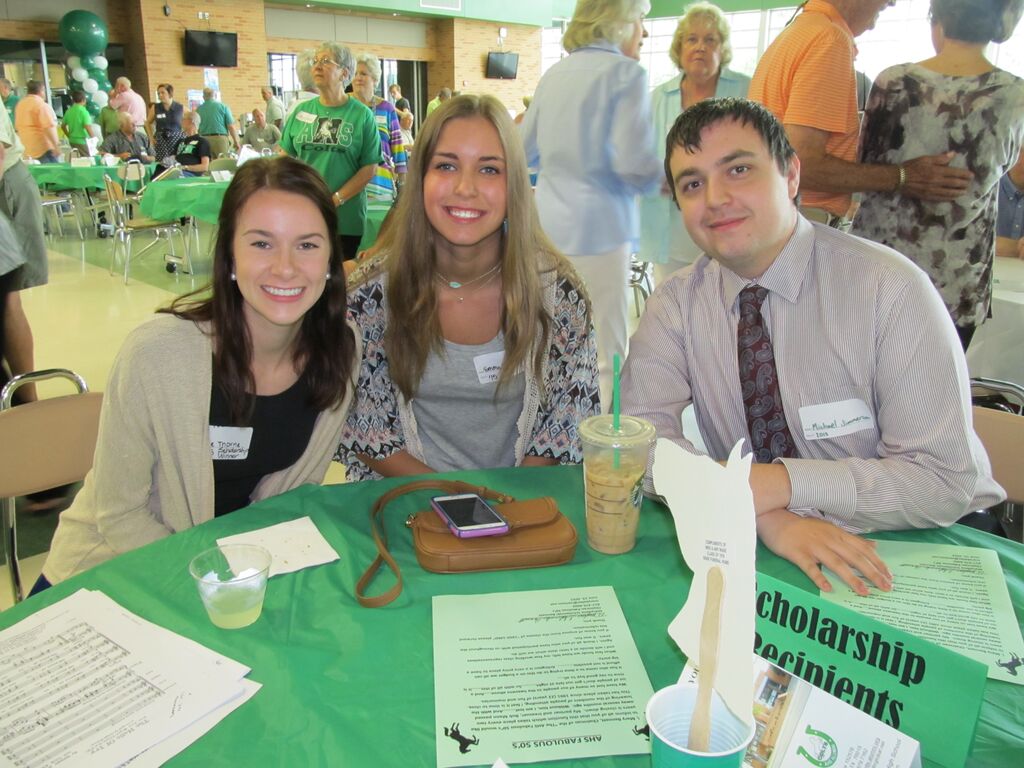 Ellie, Emma, and Michael attending their first Open House
in June 2015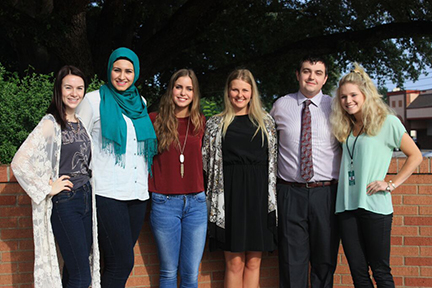 ALUMNI SCHOLARSHIP WINNERS - 2015
AHS ALUMNI WINNERS 2016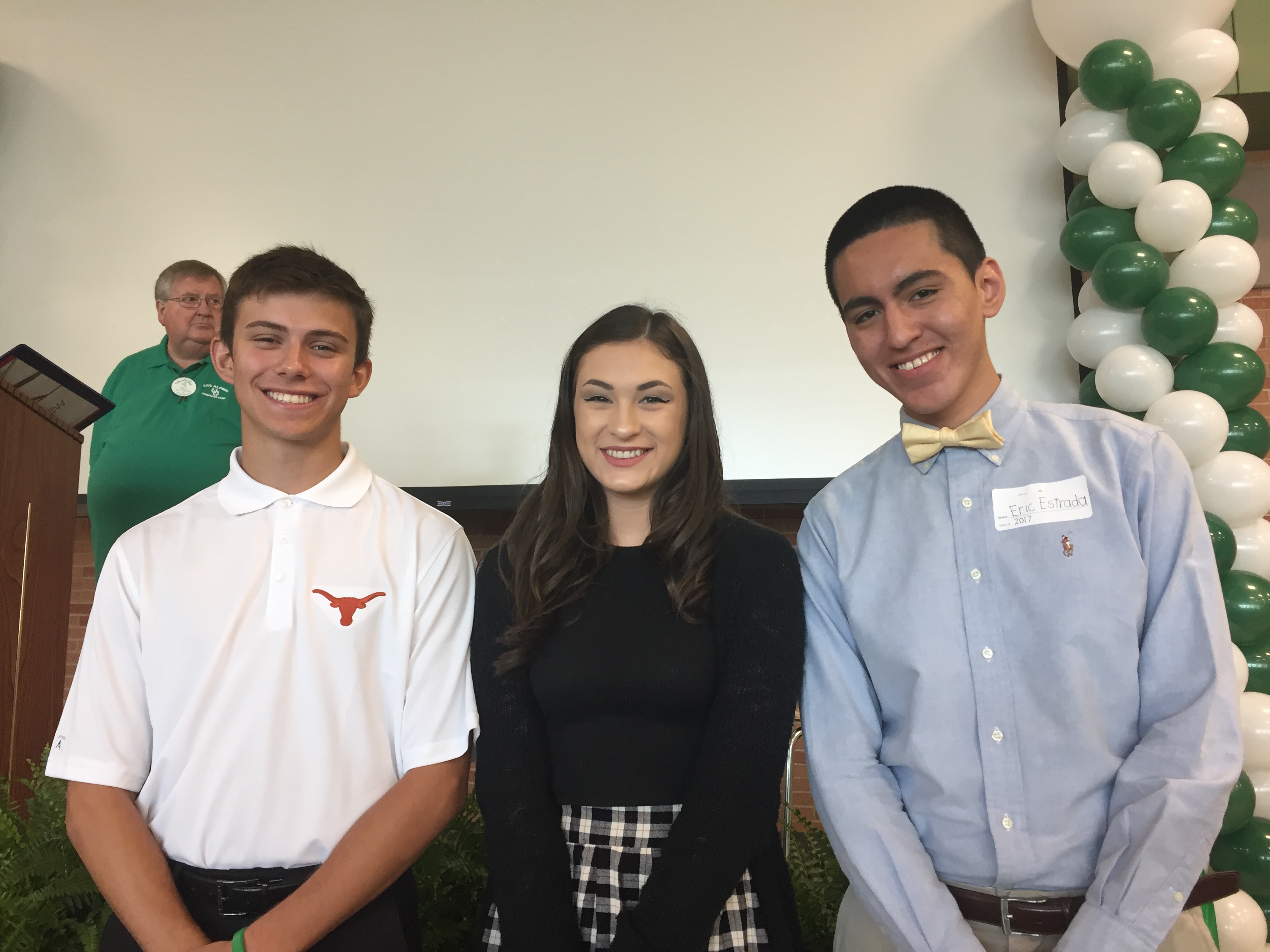 ALUMNI SCHOLARSHIP WINNERS 2017

AHS ALUMNI ASSOCIATION
SCHOLARSHIP GIFTS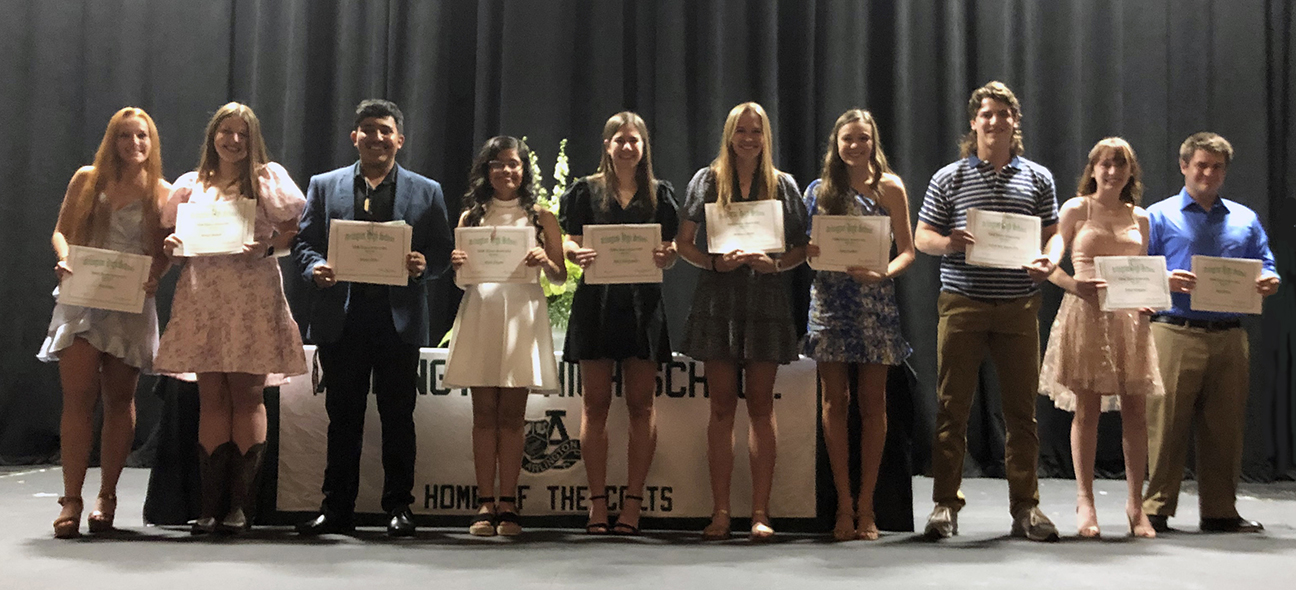 AHS SCHOLARSHIP WINNERS 2022

Scholarship recipients and the years
of their awards:
2003 – Award of $600/scholarship
CHRIS BRANIGAN - Southern Nazarene University (See update about Chris in the Winter 2008 newsletter.)
QIANA ROLLINS - University of Oklahoma (update Fall 2007)
2004 - Award of $600/scholarship
JASON SAUTER –Texas State University
CASSONDRA YNGUANZO – Texas Christian University
2005 – Award of $1,000/scholarship
ERIC BAUTOVICH – University of Texas at Arlington
LISA CREAMIER – Tarrant County College
AMBER HARRIS – University of Texas at Austin
DONNA JENNINGS – University of Texas at Arlington

2006 (bios in the Fall 2006 newsletter) Award of $1,000/scholarship
KRISTEN BATCHELOR– Texas Tech
ROBERT BROUGHTON – Tarrant County College (update Spring 2018)
DANIELLE SCHARTZ – Texas A&M
SUMMER SCHARTZ – University of Texas at Austin

2007 (bios in the Fall 2007 newsletter) Award of $1,000/scholarship
Amber Jones – University of North Texas
Eleanor Khonje – University of Texas at Arlington
Katelyn Taylor – Stephen F. Austin University
Gilbert Vasquez – University of North Texas

2008 (bios in Fall 2008 newsletter) Award of $1,000/scholarship
ALÁ AHMAD – Texas Christian University
HANNAH CROSSNOE – Tarrant County College
BRITTNEÉ KELLER – Prairie View A&M
SAMUEL TANG – Emerson College

2009 (bios in the Fall 2013 newsletter) Award of $1,000/scholarship
FAYHA AHMAD - University of Texas at Arlington
CHANCE BLUE – Le Cordon Bleu, Dallas
SARA CAINELLI – Texas Tech
ELLESE PERRYMAN – University of North Texas, Class of 1968 sponsored this scholarship with a gift of $1,000
MATTHEW WEIDEMAN – Texas A&M
2010 (bios in the Fall 2010 newsletter) Award of $1,000/scholarship
ALEXANDRA ANDERSON – Texas A&M
MARIELA CASTRO – Cosmetology School
BRIANNA NATHANIEL – Tarrant County College
ASMATH SIDDIQUI – Texas Tech
JULIEANNE STINSON – Oklahoma Christian University

2011 (bios in the Fall 2011 newsletter) Award of $1,000/scholarship
DAVID DUQUE – Liberty University
HALIE HULLENDER– Texas A&M
LAUREN LANDRY – Texas Christian University
ASHLEY LEWIS – University of Oklahoma (update Spring 2017)
SERENA TANG - American University (update Winter 2021)
2012 (bios in the Fall 2012 newsletter) Award of $1,000/scholarship
SANDRA BABERS – Dallas Baptist University
CELESTE CAMPBELL – TCU, Cathy Bontley Brown Scholarship (update Spring 2016)
BRITTANY LOK – University of North Texas (update Spring 2017)
CYNTHIA THORNE - Oklahoma City University, Ann Lacy School of American Dance (update Spring 2017)
LANDRY TUCKER – Texas A&M
ALEXANDRA WOLFSKILL – Texas Tech
2013 (bios in the Fall 2013 newsletter) Award of $1,000/scholarship
ALEXA CARDENAS - University of Texas at Arlington
COLE ENGER – Baylor University
MORGAN FOWLER – Texas Tech, Cathy Bontley Brown Scholarship, (update Spring 2018)
JAZMIN MARIN – Tarrant County College
EVETTE ODHIAMBO – University of North Texas
2014 (bios in the Fall 2014 newsletter) Award of $1,000/scholarship
DANIELA CASTRO – Tarrant County College
SHELBY DYKES – Stephen F. Austin University
BAILEY HARRIS – Baylor University
HANNAH HULLENDER – University of Texas at Austin (update Fall 2018)
MARISSA OTTERBINE – Texas State University
REBEKAH TATE - Baylor University (update Spring 2020)
2015 (bios in the Fall 2015 Newsletter) Award of $1,000/scholarship
JANA AHMAD – University of Texas at Arlington (update Spring 2016)
KAYLA ESTES – Dallas Baptist University (update Spring 2016)
LAUREN BEARD – University of Texas at Austin (update Winter 2016 and Spring 2017)
MICHAEL JIMMERSON – Texas A&M, John Webb Memorial Scholarship
ELLIE THORNE – Baylor University, Cathy Bontley Brown Scholarship (update Spring 2020)
EMMA SMITH – University of Oklahoma
2016 (bios in the Fall 2016 Newsletter) Award of $1,000/scholarship
ALAN BRAXTON – University of Texas at Austin (see bio Winter 2017)
CAROLINE CAVE – Texas Christian University, Cathy Bontley Brown Scholarship (update Spring 2020)
MARYAM CHOWDHRY – Tarrant County College, Captain William Nation ROTC Scholarship
CAITLIN McMASTERS – Oklahoma City University, Barbara Keating Syptak Tapp Memorial Scholarship
MICHAEL PRICE - University of Texas at Austin, Barbara Keating Syptak Tapp Memorial Scholarship
REBECCA READ – TCU, Jannette Workman Scholarship (see Winter 2017)
GRAYSON ROSS - University of Texas at Austin, Judge William Hughes Scholarship
TIFFANY SMITH – University of Arkansas, Annette Workman Polk Memorial Scholarship
2017 (bios in the Fall 2017 Newsletter) Award of $1,000/scholarship
ERIC ESTRADA – Texas Christian University
MELINDA PLATT – University of Texas at Arlington
BRIANNA ROCHA – Tarrant County College, Captain William Nation ROTC Scholarship
NATHAN VASQUEZ – University of Texas at Austin, Class of 1959 Scholarship
DESTINY ARRIAGA – Bel Rea Institute of Animal Technology, Class of 1966 Scholarship (update Spring 2018)
SHAUN QUIRK – University of Arkansas, Cathy Bontley Brown Scholarship
2018 (bios in the Fall 2018 Newsletter) Award of $1,250/scholarship
MEGAN BRETT – Texas A&M, Cathy Bontley Brown Scholarship (update Spring 2019)
TARYN CATES – Houston Baptist University
HANNA FARRIS - University of Texas at Arlington, Captain William Nation ROTC Scholarship
HANNA JONES – Kilgore College (update Spring 2019)
ABBY MATHIS – University of Texas at Austin
NOAH MORGAN – Oklahoma City University, Jane Robin Ellis Scholarship
EMMA RUBY – Loyola University, New Orleans
TYLER SEIBOLD – Texas A&M
MYKHAYLO (MICHAEL) SIMANOVSKYY – Texas Christian University
2019 (bios in the Fall 2019 Newsletter) Award of $1,250/scholarship
IFEJOLA ADEBO – University of Texas at Arlington, Class of 1962 Jackie Peach Wells Memorial Scholarship
MATTIE BENNETT – University of Arkansas
IFRAH CHOWDHRY – Stephen F. Austin University, Captain William Nation ROTC Scholarship
THOMAS HOLLOWAY – Texas Christian University (update Winter 2020)
TYRIN KING – Tarrant County College
NYLA McGEE – University of North Texas, Class of 1962 Eddy Bost Branch Memorial Scholarship
DAVID MEXQUITIC - UT Arlington, Class of 1962 Gaylene Garrison Pierce Memorial Scholarship (update Spring 2020)
JADAH PARKER – University of North Texas
SARA YOUSSEF - University of Texas at Arlington
2020 (bios in the Fall 2020 Newsletter) Award of $1,500/scholarship
FARAH AHMAD – University of Texas at Arlington
GABRIELLA BENITEZ - University of Texas at Arlington
JAKE BUTLER - University of Texas at Arlington, Jane Robin Ellis Memorial Scholarship
GISELLE GLASS - University of Texas at Arlington
SETH JAMES - University of Texas at Arlington, Class of 1969 Scholarship
CELIA-SANDRA LYONGA – Stephen F. Austin University, Captain William Nation ROTC Scholarship
JANISE OWENS – Tarrant County College (update Winter 2021)
CAMBRIA PIERCE – University of North Texas (update Winter 2021)
IRISA REYES – United States Air Force Academy, Cathy Bontley Brown Scholarship
BO WITCHER – Dallas Baptist University
2021 (bios in the Fall 2021 Newsletter) Award of $1,500/scholarship
ABIGAIL BARZYK – McMurray University (update Winter 2022)
UMBER BATOOL – University of Texas at Arlington, Lou Baker Scholarship (update Winter 2022)
CALEB CRIDER – Dallas Baptist University, Class of 1963 Jordan Kemp Keyes Wood Memorial, (update Winter 2022)
HAYDEN EARLEY – Texas Tech, Cathy Bontley Brown Scholarship, (update Winter 2022)
SHIANNE GARRETT – University of North Texas (update AHS Alumni instaNEWS, April 2022)
KENDALL GREER – Baylor University, Francine Burris Scholarship
KAYLA NGUYEN – University of Houston
JUKDAW 'JACK' PAKSANSRI – Tarrant County College, Captain William Nation ROTC Scholarship
HENRY SPENCER - University of North Texas (update Winter 2022)
TATUM TORRES – Austin College, Emily Miller Teacher of the Year Scholarship
2022 (bios in the Fall 2022 Newsletter) Award of $1,500/scholarship
ELLA AUSTIN – University of Oklahoma, Class of 1963 Jordan Kemp Keyes Wood Memorial Scholarship
MARIA CALZADA – University of Texas at Arlington
McKENZIE CARLIN – Oklahoma State University, Greater Arlington Lions Club Scholarship
MARY NELLE CRAVENS – University of Texas at Austin, Rebecca Tate Teacher of the Year Scholarship
JULIA LASWELL – Texas Christian University, Greater Arlington Lions Club Scholarship
ERICSON ORTIZ – Texas A&M
DANIELA SANDOVAL – University of Texas at Arlington, Greater Arlington Lions Club Scholarship  
SYDNEY SEIBOLD – Texas A&M, Cathy Bontley Brown Scholarship
RILEY SMITH – Tarleton State University, Captain William Nation, ROTC Scholarship   
AUDREY WAGGENER – Texas State University, Greater Arlington Lions Club Scholarship         
If you have current email addresses or other contact information for our scholars whose files need updating, please send to ahscoltsforever@gmail.com