CLASS OF 1958
Class of 1958 –
Friday: June 8 - at JGilligans - 5:00 pm - ?
Saturday: June 9 - Alumni Open House

FOR INFORMATION CONTACT:
Ralph Valentine
# 817-583-6504
ralphvalentine@att.net
CLASS OF 1963
June 9 & 10 - SAVE THE DATE
CLASS OF 1968

SAVE THE DATE! - APRIL 28, 2018
The AHS Class of 1968 will celebrate their 50th REUNION at Tierra Verde Country Club in Arlington. There will be "NO CHARGE" for class members and their PLUS ONE!
To RSVP, Contact Linda Chaney or Diane Pierce at chaney.L@sbcglobal.net or diane107@sbcglobal.net.
Please RSVP prior to April 7, 2018 in order to secure your FREE admission & dinner.
CLASS OF 1973
NO DATE SET - - TBD
CLASS OF 1978
April 28, 2018 6:00-11:00pm
Arlington Sheraton - Champions Ballroom
(at the Arlington Convention Center/Ballpark)

1500 Convention Center Drive
Arlington, Texas 76011
Follow the Class of 1978 Reunion News on FB:
ARLINGTON HIGH SCHOOL,
Arlington, TX - Class of 1978 40th Reunion
CLASS OF 1988
SAVE THE DATE!
October 20, 2018
Arlington Hilton
https://goo.gl/j5B8fM - for reunion details
Facebook: Arlington High School Class of '88 (Arlington, TX)
---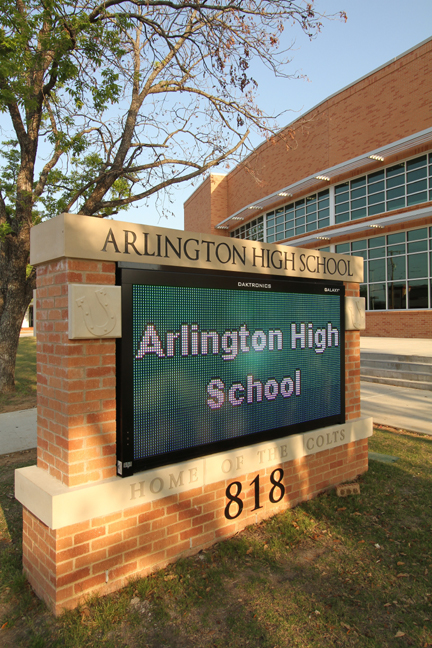 AHS New Marquee - digital sign - looks great!