AHS CLASS NEWS - REUNION ARENA!
Please send us the latest news from your class. We will be pleased to include news - of upcoming Reunions and other special events. If your Graduating Year ends in 1 or 6 - - you may be having a reunion this year! Let the AHS Alumni Association know - we'll be glad to help publicize your plans.

CLASS OF 1951
June 10 & 11
Friday: Shady Valley Golf Club,
Dinner
Saturday: Alumni Open House
10:30am
Contact: Helen Schrickel,
817.274.0005
hhschrick@sbcglobal.net
CLASS OF 1961
June 10 - 12
Friday: Golf
Saturday: Open House and Rolling
Hills CC
Sunday: Brunch
Contact: Charlene Wise Mahan,
817.275.7283
charmahan61@hotmail.com
CLASS OF 1969
February 26
The Second Annual We-Aren't-Having-Any More-Reunions Get Together
J Gilligans in Arlington 7:30
CLASS OF 1971

September 23 & 24
Friday: AHS vs. Lamar, 7:30

JGillians 9:00 til close
Saturday: Reunion Banquet, Sheraton

Hotel—Dinner, dancing, cash bar

Contact: Jerrell Womble,
817.274.8813


jwwomble@tx.rr.com

Donna Young Townsend,
817.860.8944


dtownsend52@aol.com
http://ahs1971info.webs.com
CLASS OF 1991
June 10 & 11
Send contact information to:
ahs_alumni_1991@yahoo.com
Contacts: Erin Osborne Norris,
817.456.3746
Debbie Swartz Forbes, 682.478.6470
SEND US ANY REUNION UPDATES!
---
AHS ALMA MATER

Arlington High,
School of our praise
We'll ere be true to you,
All of our days.
We'll always cheer
The green and white
And owe our fortunes to you,
Arlington High.
AHS FIGHT SONG

Sons of the white and green,
Fight for your alma mater,
Fight for the fame of the Arlington name,
Triumph forge ahead rah rah rah.
Hearts that are brave and true,
Loyal and eager too,
Shoulder to shoulder fight and win....
Sons of the white and green.
REUNIONS - -
Watch for announcements!
---
LINKS TO AHS &
CLASS WEBSITES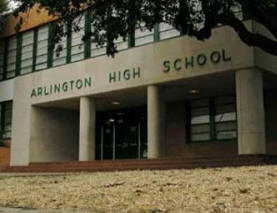 ---
---